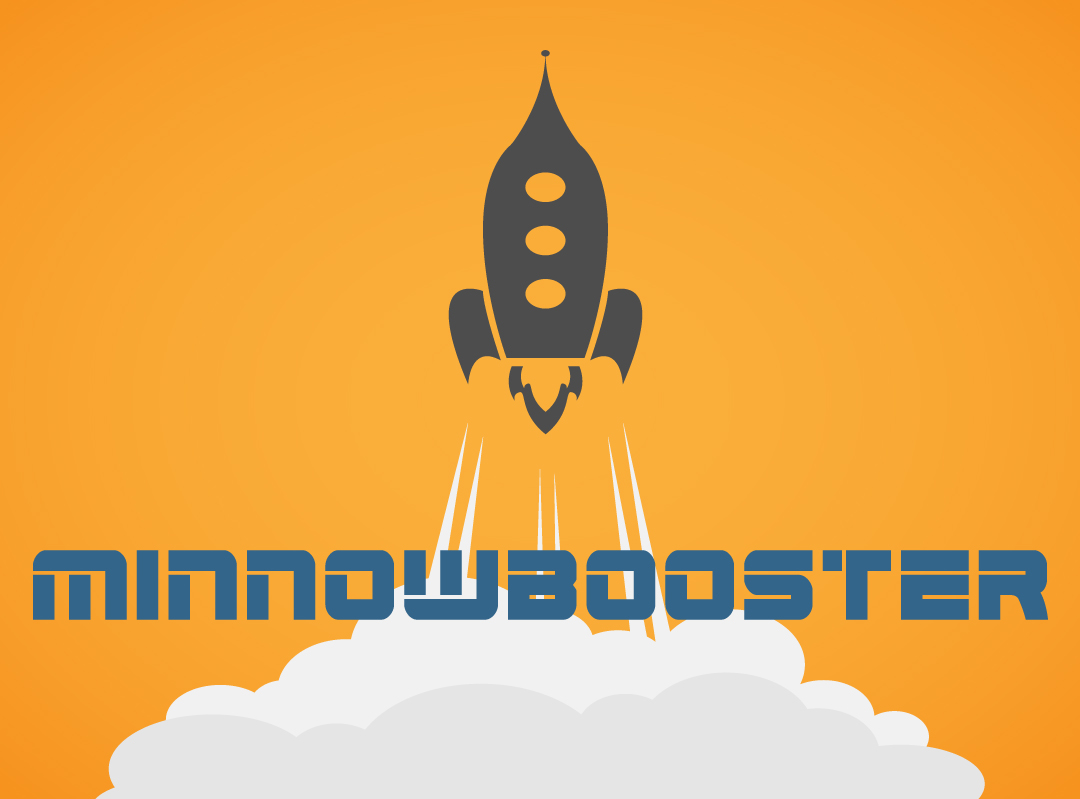 Hey folks, @furious-one here to make an important announcement about @MinnowBooster.
As the price of Steem grows alongside the Steemit social network, so do the number of spammers and abusers and con artists wanting to farm the network in one way or another for easy money.
Minnowbooster takes platform abusers seriously - we have been combating spammers and farmers for months. Starting from the middle of February, 2018 our developers have added some neat tools to our arsenal, which we will use in full force to combat farming for easy money. We will not disclose the exact nature off all tools available to us to keep an edge over abusers.
When boosting your posts, use common sense - does a copy-paste tech spec of a mobile phone really deserve to be in the HOT section. Or does a simple "selfie of me & my friends" really contribute to the platform and community that much, you should boost it to hundreds of dollars in post rewards?
Meaningful and Original Content is the Way Forward With @MinnowBooster!
---
Post length is subjective - If you work hard to get that special shot as a photographer, the audience can usually tell. Boost your internet-downloaded pics and boost them to hundreds and the community is bound to notice.
If you think we might have done you injustice, feel free to let us know in our Discord, and a team of people will review your case. We are not unmistakable and will look to find ways to fix problems.
Additionally - Minnowbooster currently does not allow boosting posts, which contain the tag "dmania", "dlive" and "meme". We have nothing against these tags and we love the occasional good meme or stream, but these are controversial topics among the Steem community, so please be aware of these restrictions, we will reject SBD sends for these tags.
This might be a good time to review our base Terms of Service:
We will be taking new measures to eliminate inappropriate use of our service. Abusers be warned, a new policy is being put in place and if you continue to upvote content that violates our TOS, we will be removing your upvote and declining a refund payout.
What constitutes abuse of @minnowbooster?
Using multiple accounts to post duplicate content and purchasing MB upvotes for all of them.
Same goes for using multiple accounts to post low quality content just to farm Minnowbooster for profits
Upvoting posts with MB that are written in a copy / paste style.
Using a MB vote for very short or repetitive content. Length is subjective.
Use discretion in upvoting posts, using a small MB upvote for short content may be okay under some circumstances but think about the content you are upvoting and decide based on the criteria we have laid out.
What is @minnowbooster's new policy in dealing with abuse? Users who violate our TOS regarding upvotes will face the following consequences:
1.) Your post will be unvoted by Minnowbooster
2.) You will not receive a refund for the original upvote.
NB! User errors while using our upvote or delegation services are non-refundable. However, if it's within our means, we might meet you half-way.
---
What it all means...
Both @BuildTeam and @MinnowBooster have made a commitment to adding value to the Steem ecosystem so we take the issue of quality seriously. With better content producers gaining much needed exposure more outside users will be attracted to our ecosystem and Steem as a community will grow far beyond its current state. Together we can make this blockchain a quality place for both content producers and content consumers!
---
Minnowbooster strives to provide a truly investor-class model for Steem investors who are either not good at curating content or do not have the time or inclination to do so and would prefer to earn a "Masternode like" competitive APR return on investment with daily payouts, and simultaneously empowering the community and stimulating the attention economy of the Steem blockchain.
Thank you again for your continued support as we work on providing the most socially beneficial toolset on Steem.
Our team will continue to move forward to equip you with the services you need to succeed on Steem!
---
What can MINNOWBOOSTER do for you?!
| What? | Currency | Advantages |
| --- | --- | --- |
| Buy upvote | SBD | Earn an instant return |
| Lease SP from market | STEEM | Increase your vote strength and curation rewards |
| Delegate SP to market | STEEM POWER | Earn daily STEEM dividends |
| Invest STEEM in MinnowBooster | STEEM | Earn daily SBD dividends |
| Delegate SP to MinnowBooster | STEEM POWER | Earn daily SBD dividends |
| Sell your vote to MinnowBooster | VOTING POWER | Earn SBD share of sells |
---
CURRENT PARAMETERS:
Parameter
Value
Remarks
Minimum Upvote
0.01 SBD
Minimum SBD you can send
Upvote comments?
Can Be Enabled
Profit
200-300%
Varies with SBD price, but always receive more than send.
Minimum Lease Purchase
1 STEEM
Maximum SP Lease / Steem
1 STEEM/50 SP
Price per week/Lease size
Minimum SP Lease / Steem
1 STEEM/400 SP
Price per week/Lease size
Provide us with feedback
We are happy to hear your feedback about where we can improve.
---
Join our Discord chat
Get support and connect with us and other Minnowbooster fans!

---
We are always looking to improve @minnowbooster and try to keep you up-to-date whenever something changes. If you have any suggestions about what we should change or add to @minnowbooster, then please write us a comment :)
---
Please remember, that while we are a business and work for a profit, that we share 90% of our income with the various investors in our services. There is no other booster available which shares it's rewards with such a diverse set of people on the Steem BlockChain.
Thank you for your continued support.
---
Missed the BuildTeam announcement? Here's all the juicy details.
---
Video Tutorials
---

---
And last but not least, here's our cute little footer made by the most epic @ryivhnn! Yes, there are cute little minnows floating around!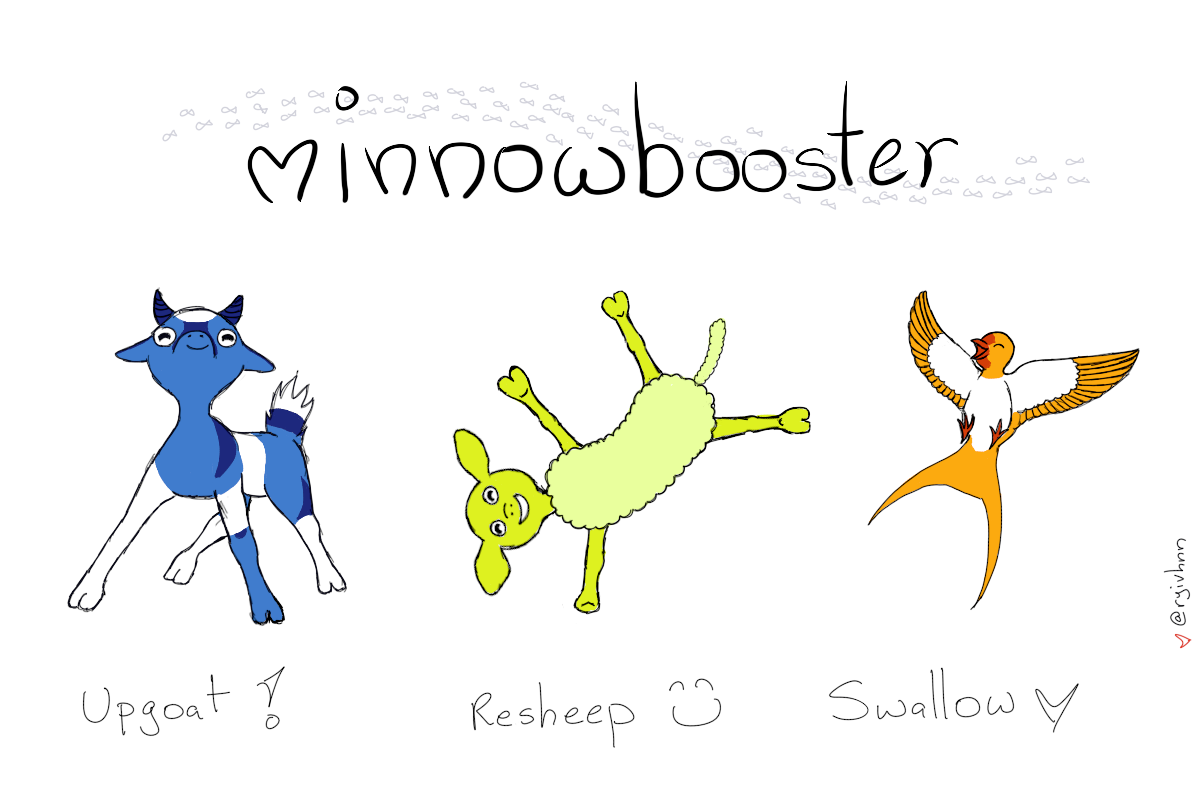 ---
Minnowbooster is a @buildteam project by @thecryptodrive (witness) @cryptomancer and @reggaemuffin (witness)
---
---
This is a @steemvoter subscription payment post. Thank you to Steemvoter customers for allowing us to use your Steem accounts to upvote this post by virtue of your free subscription to the Steemvoter.com bot service. @steemvoter is proudly a @buildteam subsidiary and sister project to @steemsports and @minnowbooster.